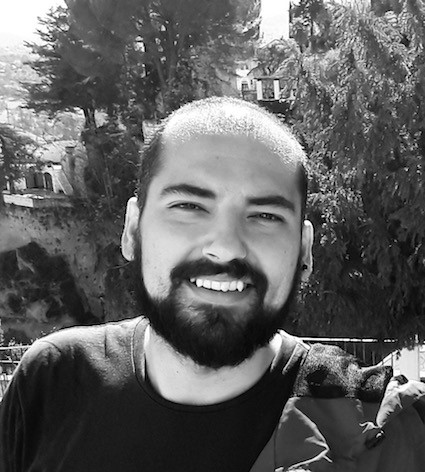 Manuel Almagro Holgado is a Junior FPI Researcher at the Department of Philosophy I of the University of Granada. His PhD dissertation focuses on the analysis of mental state attributions and the distinction between the descriptive and non-descriptive use of language. He is a member of the research project "Contemporary Expressivisms and the Indispensability of Normative Vocabulary: Scope and Limits of the Expressivist Hypothesis" (FFI2016-80088-P), funded by the Ministry of Economy, Industry and Competitiveness.
La Filosofía del Lenguaje y de la Mente. Algunos de sus intereses particulares son la ascripción de estados mentales, el expresivismo y las cuestiones asociadas, la injusticia epistémica y discursiva, los dogwisthles, la intencionalidad y la filosofía de Wittgenstein en general.
[2019] Díaz, Rodrigo, y Manuel Almagro. "You are just being emotional! Testimonial injustice and folk-psychological attributions." Synthese, Special Issue "Folk psychology: Pluralistic approaches". DOI: 10.1007/s11229-019-02429-w.
[2019] Almagro, Manuel, and Víctor Fernández Castro. "The Social Cover view: a non-epistemic approach to mindreading." Philosophia. DOI: 10.1007/s11406-019-00096-2.
[2018] Almagro, Manuel. "Verdad sobre la no existencia: un problema para la Teoría Reduccionista de Tim Crane." Crítica, Revista Hispanoamericana de Filosofía, vol. 50, no. 148, pp. 99-113. DOI: 10.22201/iifs.18704905e.2018.99.
[2017] Almagro, Manuel. "Wittgenstein y la hipótesis del espectro visual invertido." Análisis, Revista de investigación filosófica, vol 4, no. 1, pp. 77-92. DOI: 10.26754/ojs_arif/a.rif.201711219.