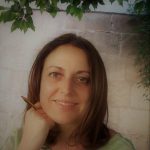 Dr. Miriam Fernández-Santiago/Miriam Fernández-Santiago, PhD.
Profesor Titular de Universidad/ Senior Lecturer in English and American Literature
Universidad de Granada/University of Granada (Spain)
Departamento de Filologías Inglesa y Alemana/Current Head of the English&German Department 
Facultad de Filosofía y Letras/School of Philosophy and Letters
Secretaria de la Asociación Española de Estudios Norteamericanos/Secretary of the Spanish Association of American Studies.
Investigador Responsable del grupo PAIDI GRACO (HUM676)/ PI Research Group GRACO (HUM676) 

mirfer@ugr.es/graco.hum676@ugr.es
(+34) 958 241 000 Ext. 20155/41770
(+34) 606 357 243 Ext.77574
<https://dia.ugr.es>
<http://www.saasweb.org/BOARD.html>
<https://graco.ugr.es>http://wpd.ugr.es/~mirfer/
http://maenglishugr.com
http://typh.unizar.es/
https://orcid.org/0000-0001-9120-8330
Intereses Profesionales/Professional Interests:
Estudios de Trauma/Trauma Studies, Posthumanismo/Posthumanism, Disability Studies/ Estudios de Discapacidad, Vulnerabilidad/Vulnerability, Ecocrítica/Ecocriticism, Narrativa Norteamericana/North-American Narrative, Crítica Literaria/Literary Criticism, Teoría Crítica/Critical Theory, Estudios Culturales e Interculturales/Cultural and Intercultural Studies, AICLE/CLIL, TIC/ICTs.