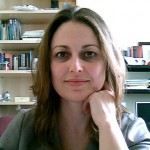 Dr. Miriam Fernández-Santiago/Miriam Fernández-Santiago, PhD.
Profesor Titular de Universidad/ Senior Lecturer in English and American Literature
Universidad de Granada/University of Granada
Departamento de Filologías Inglesa y Alemana/English Department
Facultad de Filosofía y Letras/School of Philosophy and Letters
Facultad  de Traducción e Interpretación/School of Translation
Tel. 958 244 103
Fax. 958 240 525
email:
mirfer@ugr.es
Intereses Profesionales/Professional Interests:
Estudios de Trauma/Trauma Studies, Posthumanismo/Posthumanism, Ecocrítica/Ecocriticism, Narrativa Norteamericana/North-American Narrative, Crítica Literaria/Literary Criticism, Teoría Crítica/Critical Theory, Estudios Culturales e Interculturales/Cultural and Intercultural Studies, AICLE/CLIL, TIC/ICTs.