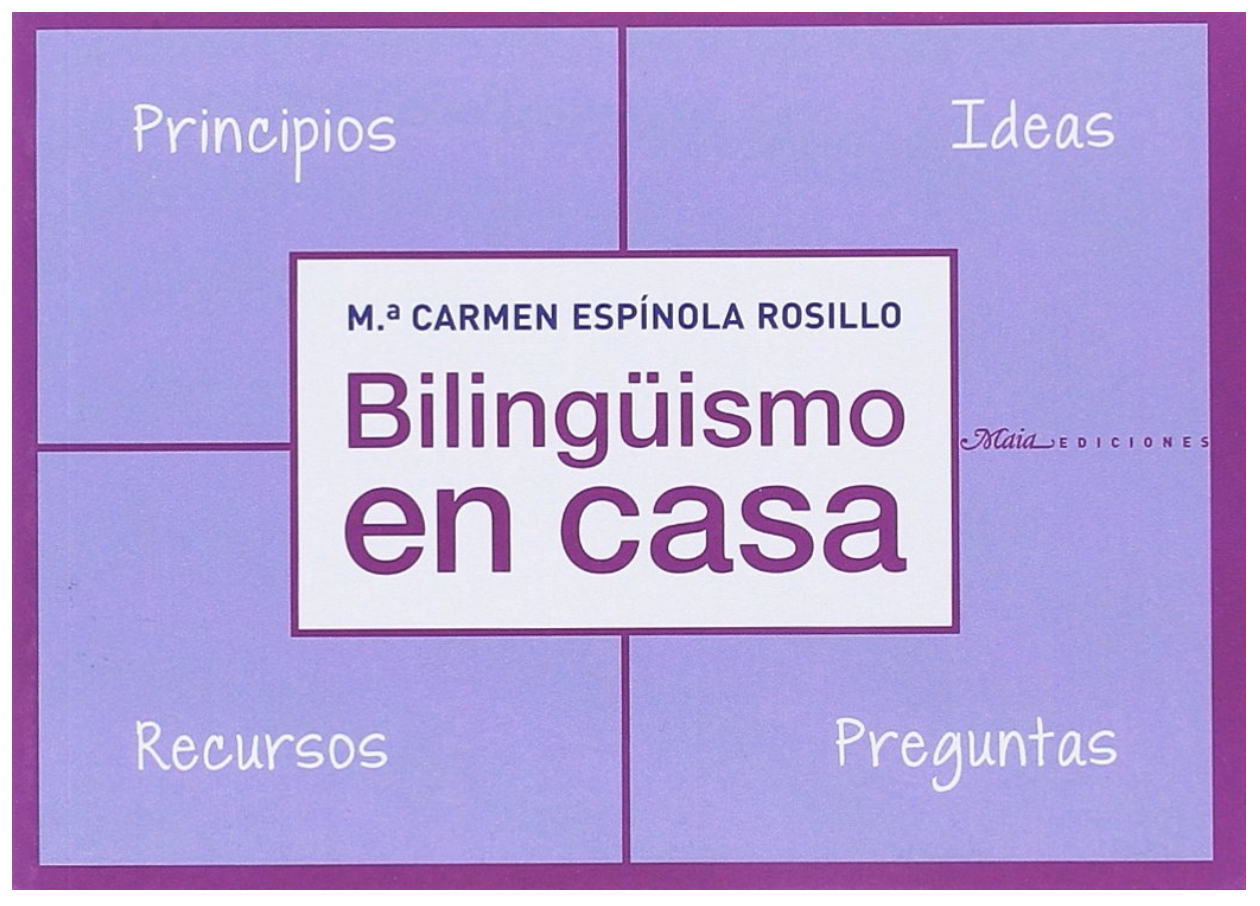 ¿Ha querido alguna vez criar a sus hijos de forma bilingüe pero no ha sabido cómo? ¿Podrían los padres educar a un niño de tal forma que acabe dominando una segunda lengua aunque sus padres no sean hablantes nativos de dicha lengua? ¿Cómo pueden las familias conseguirlo sin necesidad de ser expertos en lingüística o filología?
Si alguna vez se ha planteado estas cuestiones, sin duda "Bilingüismo en casa" es un libro de obligada lectura. Es fruto de la exitosa experiencia de padre y madre hablantes nativos de español que han criado a su hija Carla en inglés, la segunda lengua de los padres, en una región donde la lengua mayoritaria es el español (Andalucía). Carla fue expuesta al inglés desde una edad muy temprana y el nivel lingüístico alcanzado en inglés a sus 7 años ha sido altamente exitoso.
Have you ever wanted to raise your children bilingually but didn't know how to? Is it even possible for parents to raise a child to become proficient in a second language if his or her parents are not native speakers of that language? How can families achieve this without being experts in linguistics or philology?
If you have ever had these thoughts, "Bilingualism at Home" is a must-read book. It recounts the successful experience of native Spanish speaking parents who raised their daughter in English, the parents' second language, in a region where the majority language was Spanish (Andalusia). Their daughter, Carla, was exposed to English from a very early age and was able to reach a high level of English by age 7.
El libro está fundamentado en una pregunta clásica y básica en el estudio científico del bilingüismo: ¿Cuál es la mejor edad para aprender y dominar una segunda lengua? Ésta es una cuestión que tiene hondas repercusiones no sólo a nivel científico, sino también educativo y social, pues como afirma la propia autora: "La adquisición temprana de una segunda lengua se ha convertido en una preocupación central para muchas familias y los planes de bilingüismo escolar, las franquicias de idiomas y clases extraescolares se multiplican".
Éste es un libro práctico y dirigido principalmente a familias que deseen educar a sus hijos en una segunda lengua. El libro está agrupado en cuatro bloques: (1º) PRINCIPIOS, donde se incluyen definiciones, conceptos y teorías sobre los que se basa la educación bilingüe infantil en casa. (2º) IDEAS, donde se sugieren actividades cotidianas domésticas para que el niño vaya adquiriendo su segunda lengua. (3º) RECURSOS para ti y juegos, cuentos, recursos web, kits de supervivencia para distintos contextos y una infinidad de material práctico para que las familias lo puedan poner en práctica fácilmente en casa. (4º) PREGUNTAS, donde se plantean cuestiones relevantes para los padres. El libro concluye con referencias bibliográficas para profundizar más.
The book is based on a classic and fundamental question we ask ourselves in the field of scientific bilingualism research: What is the best age to learn and master a second language? This question is of paramount importance due to its profound repercussions at scientific, educational and social levels, since, as the author herself states: "The early acquisition of a second language has become a central concern for many families and school bilingualism plans, language franchises and extracurricular classes are multiplying".
This book is aimed primarily at families who wish to educate their children in a second language. The book is divided as follows: (1) PRINCIPLES, which includes definitions, concepts and theories which form the foundation for at home bilingual education for children. (2) IDEAS, where daily in-house activities are suggested which are helpful for second language acquisition. (3) RESOURCES, for you: games, stories, web resources, and infinite practical language materials. (4) QUESTIONS, where relevant questions are raised and answered. The book concludes with bibliographical references for further reading.
A lo largo del libro también se abordan mitos y preguntas clave sobre el bilingüismo que preocupan a los padres, p.ej.: ¿A qué edad se pierde el tren del bilingüismo? ¿"Traducen" los niños bilingües desde su lengua materna a su segunda lengua? ¿Entienden más de lo que expresan? ¿Cuál es la mejor estrategia para lograr el bilingüismo? ¿Es acertado educar a un niño en una segunda lengua aún cuando los padres no son nativos de esa lengua (y aún cuando no la pronuncien como un nativo)? ¿Estaremos creando un monstruito?
El libro está escrito en español, su lectura es accesible y agradable y su formato es manejable y cómodo (tamaño bolsillo en formato apaisado para fácil consulta) y, además, cada bloque/sección puede leerse independientemente. Se encuentra ya disponible en librerías (físicas y online) y también en amazon.es. La autora Mª Carmen Espínola Rosillo presentará el libro en Librería Babel (C/ Gran Capitán s/n, junto Monasterio San Jerónimo, Granada) este sábado 9 junio a las 12:30.
The book also addresses myths and concerns about bilingualism, e.g.: At what age do bilingual children miss the bilingualism train? Do bilingual children "translate" from their native language to their second language? Do they understand more than they express? What is the best strategy for achieving bilingualism? Is it wise to educate a child in a second language even if the parents are not native speakers of that language (and even if they do not pronounce it like a native speaker)? To conclude… are we creating a little monster?
The book is written in Spanish and is pleasant and informative read. It's pocket size and has a landscape format. Each section can be read independently. It is already available in bookstores and on amazon.es. The author Mª Carmen Espínola Rosillo will present the book at Librería Babel (C/ Gran Capitán s/n, next to Monasterio San Jerónimo, Granada) this Saturday, June 9 at 12:30. Get your copy now!
"Bilingüismo en casa". Mª Carmen Espínola Rosillo, Maia Ediciones 
(Madrid), 2018, 277 págs.